Texas
|
May 14, 2021
Texas
|
May 14, 2021
Military chaplains do not surrender their First Amendment rights when they decide to serve their country.
But right now, First Liberty client, Army Chaplain Major Andrew Calvert, could be on the verge of having his decorated military career destroyed for expressing his religious beliefs.
Yes—you read that correctly. A chaplain—whose duty is to provide religious and spiritual support—is facing career-ending punishment by the Army because some people found it offensive that he expressed his religious beliefs on his personal Facebook page…
(Excerpts from First Liberty)
Learn More
Wisconsin
|
May 13, 2021
Wisconsin
|
May 13, 2021
The playing of the National Anthem at sporting events has become a hot-button issue over the past few years. In the wake of nationwide social justice protests and the Black Lives Matter movement, athletes across the country have taken to kneeling during the anthem as a form of protest against what they view as systemic racism. As a result, some sporting events have ceased playing the anthem altogether.
On Tuesday, Wisconsin State Assembly lawmakers passed a bill requiring the National Anthem to be played before all sporting events that take place at arenas and venues which receive taxpayer dollars. It will now head to the State Senate for a final vote.
The bill was proposed by Rep. Tony Kurtz, a military veteran, who said the playing of the anthem will remind Wisconsin residents that they are all part of one country.
(Excerpts from the Daily Wire)
Learn More
Texas
|
May 13, 2021
Texas
|
May 13, 2021
While other bills would apply to all religious activity, this proposed amendment would only apply to religious services.
Yesterday, the Texas House passed a proposal to keep churches, mosques, and temples open during disasters with bipartisan support.
Senate Joint Resolution (SJR) 27 reached the House floor after passing the Texas Senate with 28 affirmative votes. Sens. Nathan Johnson (D-Dallas) and Sarah Eckhardt (D-Austin) were the only two senators to vote nay, and Sen. Borris Miles (D-Houston) was counted absent.
It passed the House with 108 yeas and 33 nays according to the unofficial tally.
"SJR 27 very simply proposes a constitutional amendment making it explicitly clear that the state, or any political subdivision of the state, cannot close down or limit our houses of worship or religious services. Period," said Rep. Jeff Leach (R-Plano), carrier of the bill's House companion.
Rep. John Turner (D-Dallas) took issue with the proposed amendment's broad language and said existing law, which forbids government interference in religion unless it is narrowly tailored to serve a compelling state interest, already protects religious liberty well enough.
"I am also a very strong supporter of religious liberty and believe deeply in the importance of faith and also religious services as described here on this floor, and I don't want any differences about this amendment to obscure that fact," Turner said.
"That said, I want to ask you about this amendment. One thing I see here in the language — it says that no rule or law or statute or order, et cetera, may… limit religious services, correct? So, for instance, that would mean there could never be any restrictions on capacity."
(Excerpts from the Texan)
Learn More
New York
|
May 13, 2021
New York
|
May 13, 2021
NEW YORK—Before the pandemic, waves of people donning yellow and blue would congregate in New York and elsewhere this time of year to take part in a celebration.
In public parks and on the streets, they showcased slow-moving, meditative exercises, while wearing shirts emblazoned with the words "truthfulness, compassion, and tolerance"—the three core tenets of their faith, Falun Gong (also known as Falun Dafa).
May 13 is World Falun Dafa Day, marking the date when the spiritual practice was first made public in China in 1992.
The gatherings on this day were not only meant for commemoration, adherents say, but also to send a defiant message to the Chinese communist regime, which has been single-minded in seeking to eradicate the group for more than two decades.
One of the largest spiritual communities in China, Falun Gong garnered a following of around 70 to 100 million by 1999. But this popularity was deemed unacceptable to the atheist Chinese regime, which then launched a brutal persecution that has continued through today…
(Excerpts from the Epoch Times)
Learn More
District of Columbia
|
May 13, 2021
District of Columbia
|
May 13, 2021
The Biden administration signaled its intent to join an international agreement to stop "violent" extremism online.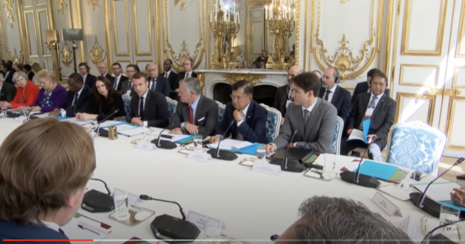 The controversial agreement is named after the New Zealand city where a far-right gunman murdered 51 people in a mosque in 2019 while live-streaming the massacre on Facebook.
White House press secretary Jen Psaki said the United States "will join the Christchurch Call to Action to Eliminate Terrorist and Violent Extremist Content Online, a global pledge by member governments and technology partners to work together to address terrorist and violent extremist content online."
The State Department released its own statement, saying that the opportunity to sign the agreement was "welcome."..
(Excerpts from MRC News)
Learn More
District of Columbia
|
May 12, 2021
District of Columbia
|
May 12, 2021
Over 120 retired military flag officers warned in a letter Monday that the country is in "deep peril" and under "tremendous assault" from those believing in socialism and Marxism, and encouraged Americans to get more politically involved to act against it.
"Our Nation is in deep peril. We are in a fight for our survival as a Constitutional Republic like no other time since our founding in 1776. The conflict is between supporters of Socialism and Marxism vs. supporters of Constitutional freedom and liberty," the retired officers wrote.
They slammed the 2020 election process and argued that Democrat House bill H.R. 1 and its Senate companion bill S. 1 would destroy election fairness and allow Democrats to forever remain in power. They wrote:…
(Excerpts from Breitbart)
Learn More