Georgia
|
November 1, 2021
Georgia
|
November 1, 2021
Georgia Baptists have sent more than $30.4 million to the Southern Baptist Convention over the past year to get the gospel to the nations.
"This shows just how committed Georgia Baptists are to the cause of Christ," said David Melber, chief operating officer for the Georgia Baptist Mission Board. "Our churches and our people have given sacrificially to make sure everyone has an opportunity to hear the gospel."
The total given between October 1 and September 30 for use outside the state of Georgia was $30,462,390. That includes $15,430,284 through the Cooperative Program, $9,698,461 to the Lottie Moon Christmas Offering, and $5,333,645 to the Annie Armstrong Easter Offering.
"You have to keep in mind that the world was in the throes of a pandemic throughout this reporting period," Melber said. "In such a time, with people around the world dying from COVID-19, our churches could see just how urgently the world needs Jesus, and they responded with this incredible show of generosity.".. (Excerpts from the Christian Index)
Learn More
International
|
October 31, 2021
International
|
October 31, 2021
Family members of the 17 missionaries kidnapped by the 400 Mawozo gang in Haiti preached forgiveness for their kidnappers days after Wilson Joseph, the gang's leader, threatened to "put a bullet in the heads" of their loved ones if his $17 million ransom demand for their release isn't met.
The 400 Mawozo gang kidnapped the missionaries, which include 16 Americans, one Canadian and five children on Oct. 16, while they were working with Christian Aid Ministries. The gang has demanded $1 million each for their safe return.
Despite the threat of execution, Christian Aid Ministries said in a statement on Saturday that the "families are united in their desire to follow Jesus' teaching of forgiveness."… (Excerpts from the Christian Post)
Learn More
International
|
October 31, 2021
International
|
October 31, 2021
A preacher and his family from Early Rain Covenant Church, a heavily-persecuted house church in southwestern China's Sichuan province, who continue to endure persecution by communist authorities, are now being harassed in their home, according to a report.
Dai Zhichao, the leader of "Tashui," a small group of ERCC in Chengdu city, and his family woke up to the sound of someone banging on the door of their house last Sunday, only to find the door graffitied with the message "Pay your debt," the U.S.-based group China Aid reported.
The keyhole on the door had been filled with glue, the group said.
At 10 a.m., someone cut off their power. Dai called the community management office, which allegedly lied to him, saying there was a circuit problem. The electricity resumed seven hours later…. (Excerpts from the Christian Post)
Learn More
International
|
October 30, 2021
International
|
October 30, 2021
We are getting details about Joe Biden's meeting with Pope Francis yesterday, and they are painting a bleak picture. For whom exactly depends on whether you think the president is lying or not. According to Biden, not only was abortion not mentioned in the conversation, but the president was lauded as a "good Catholic" who is still clear to receive communion. That despite the fact that the Pope reiterated that abortion is murder just weeks ago. While I have my issues with the Pope, this statement from Biden does not strike me as an accurate representation of the meeting. Would the leader of the Catholic Church really tell someone who supports abortion and flaunts a myriad of other required doctrines that they are a "good Catholic"? That seems absolutely crazy to consider, even if the Pope was respectful overall in his tone and tenor… (Excerpts from Red State)
Learn More
International
|
October 25, 2021
International
|
October 25, 2021
Human rights groups in India say they have documented over 300 incidents of Christian persecution in just the first nine months of 2021, warning that this year might be the worst in terms of the number of such incidents in the country's history.
While Christians make up only 2.3% of India's population and Hindus comprise about 80%, radical Hindu nationalists have been carrying out attacks on Christians under the pretext of punishing the minority for using force or monetary rewards to convert Hindus to Christianity,
A.C. Michael, the National Coordinator of the United Christian Forum, said at a press conference in Delhi this week, "The brutal attacks have taken place across 21 states. Most of the incidents are taking place in northern states and 288 instances were of mob violence," he added, according to the U.S.-based persecution watchdog International Christian Concern… (Excerpts from the Christian Post)
Learn More
Colorado
|
October 25, 2021
Colorado
|
October 25, 2021
Standing at 6-feet-tall, Jessie Roseberry of Indiana can still recall when she first fell in love with her husband. It was on the campus of her Christian college about a decade ago. She locked eyes with someone "amazingly" taller than her. At 6-foot-7-inches tall, Eric Roseberry would later become a pastor, her best friend and her husband.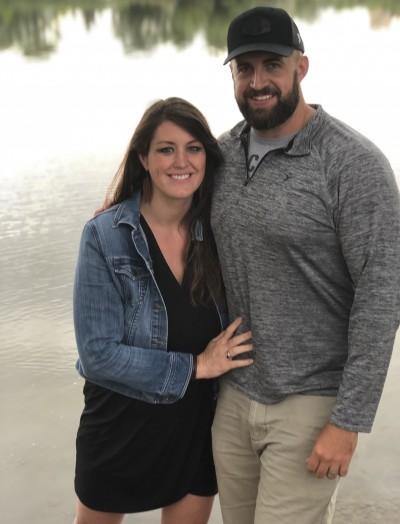 In 2005, the 19-year-old was completing a dual degree in nursing and missionary studies. She said it was his "peculiar" but "attractive" height that first grabbed her attention. She couldn't help but notice his "wide" and "bright" smile from ear to ear.
Eric Roseberry approached his future wife, and the conversation that ensued instantly revealed an "irresistible" and "romantic" chemistry. Jessie Roseberry already had a boyfriend at the time. But immediately after the encounter, she broke things off with her boyfriend because she knew she had met her future husband. …
(Excerpts from Christian Post)
Learn More