Colorado
|
October 25, 2021
Colorado
|
October 25, 2021
Standing at 6-feet-tall, Jessie Roseberry of Indiana can still recall when she first fell in love with her husband. It was on the campus of her Christian college about a decade ago. She locked eyes with someone "amazingly" taller than her. At 6-foot-7-inches tall, Eric Roseberry would later become a pastor, her best friend and her husband.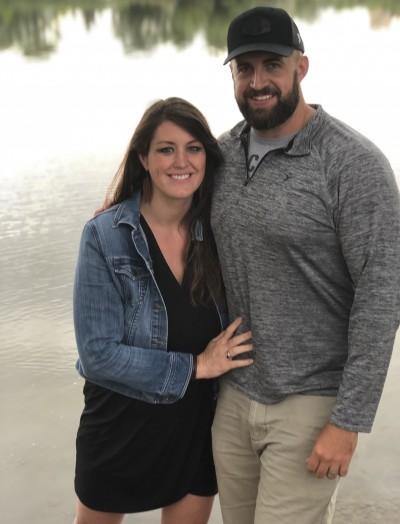 In 2005, the 19-year-old was completing a dual degree in nursing and missionary studies. She said it was his "peculiar" but "attractive" height that first grabbed her attention. She couldn't help but notice his "wide" and "bright" smile from ear to ear.
Eric Roseberry approached his future wife, and the conversation that ensued instantly revealed an "irresistible" and "romantic" chemistry. Jessie Roseberry already had a boyfriend at the time. But immediately after the encounter, she broke things off with her boyfriend because she knew she had met her future husband. …
(Excerpts from Christian Post)
Learn More
Colorado
|
September 3, 2021
Colorado
|
September 3, 2021
The number of "ambush-style" attacks on law enforcement officers has leapt this year, a national police union says.
Data show 83 officers were shot in 67 separate ambush-style attacks between Jan. 1 and Aug. 31, according to the National Fraternal Order of Police.
That's up 148 percent from the same time period last year.
"It's just a massive increase," Joe Gamaldi, vice president of the union and a Houston police sergeant, told The Epoch Times.
Officers can be ambushed when people make a fake 911 call in an attempt to lure them to an area and attack them. One such attack unfolded in Arvada, Colorado, in June, leaving police officer Gordon Beasley dead. Another took place in Nashville in June… (Excerpts from the Epoch Times)
Learn More
Colorado, Maine, Mississippi
|
August 20, 2021
Colorado, Maine, Mississippi
|
August 20, 2021
Three U.S. senators on Thursday said they tested positive for COVID-19 despite being fully vaccinated against the virus that causes it.
Sens. Roger Wicker (R-Miss.), 70, Angus King (I-Maine), 77, and John Hickenlooper (D-Colo.), 69, are the latest prominent U.S. officials to contract so-called breakthrough infections of the CCP (Chinese Communist Party) virus.
Wicker's spokesman, Phillip Waller, said the senator tested positive on Thursday morning after seeking a test due to mild symptoms.
"Senator Wicker is fully vaccinated against COVID-19, is in good health, and is being treated by his Tupelo-based physician. He is isolating, and everyone with whom Senator Wicker has come in close contact recently has been notified," Waller said in a statement.
King said he's been taking precautions since March 2020, including wearing a mask, social distancing, and driving back and forth to Washington instead of flying…. (Excerpts from the Epoch Times)
Learn More
Colorado
|
August 18, 2021
Colorado
|
August 18, 2021
A black parent in Colorado who opposes "social justice," the Black Lives Matter movement, and "critical race theory" (CRT) let his town know how he feels.
His ancestors were slaves, but this parent said, "I'm not oppressed, and I'm not a victim." He said he travels all across the country, checks into hotels, flies commercially, and goes to restaurants when and wherever he wants — and he's treated with kindness, dignity, and respect. He said his three children aren't oppressed, either. However, they are victims only to their own ignorance, their own laziness, and their own poor decision-making.
He said putting CRT in our classrooms "is taking America in the wrong direction." And he wasn't done. Watch the clip for more… (Excerpts from Black Community News)
Learn More
Colorado
|
August 11, 2021
Colorado
|
August 11, 2021
All times EST
---
REAL TIME LIVE BLOG
Wednesday August 11 Live Blog Starts at 1000 EST
1240 – Symposium servers being attacked
1205 – Mesa County, CO election files shown to be vulnerable during elections via remote access
1135 – White hat hackers are showing how they surveilled election fraud in Mesa County, CO
1120 – Lindell reveals white hat cyber personnel have been monitoring elections since the Nov 3rd election for fraud. Voting machine companies have been erasing data and it is fraud.
1005 – Lindell – today we are focusing on presenting data
————————–
2040 – Mesa County, CO County election clerk reveals threats and intimidation from CO SoS. Her office in Mesa, CO was raided today as she traveled to the symposium. The SoS's passwords were released on social media and the media narrative stated the clerk violated the law by releasing the passwords, which she didn't have possession of. Due to legal threats happening today, more information from this situation will be released on Thursday
2025 – Witnesses are about to give evidence of election fraud
1930 – Lindell says earth shaking information to be released in 30 minutes. One million votes switched from Trump to Biden in Texas
1918 – 1 million votes were switched from Trump to Biden in Florida
1900 – Trump won Georgia by 400k votes
1840 – Trump won Arizona by 300k votes
1825 – Cyber experts are being fed files in break-out sessions to verify cyber data is from 2020 election
1715 – Lindell – Trump won Pennsylvania by almost 500k votes. Bannon – there is no compromise, communism must be defeated
1635 – Eduardo Bolsonaro from Brazil, son of the President begins speaking. Brazil lost audit capability in 1996. Brazil is fighting for printed ballots. Important election in Brazil in October for the future of Latin America
1615 – Lindell – Donald Trump won Michigan by 300k votes. Clements – we have 250,000 patriot prosecutors ready to complete full audit and prosecute cheaters on both sides. Trump won Ohio by one million votes. Trump won Texas by 1.5 million votes. Trump won Minnesota. The media conditioned us to believe the big lie. Trump won Wisconsin
1550 – Bannon – these elections have been stolen for a while – only 2020 was on steroids, CCP changed presidential election – this was the second act of war after release of the CCP virus. We need full forensic audits of all 50 states. THIS CONFERENCE IS JUST THE END OF THE BEGINNING – GET TO WORK PATRIOTS
1535 – Lindell beings to show state by state real election results based on captured packet data – New Hampshire actually went to Trump
1500 – Lindell calls out fake journalists by name, offers interview on stage, for misinformation articles written this morning from the Cyber Symposium.
1415 – Clements – We are starting to find out who the election fraud cartel is
1400 – Lindell says first cyber attack today by China on Israel
1330 – Dr. Frank hints some people have flipped and turned into informants for patriot cause…every county in the United States was hacked. Election are decided ahead of time by state and controlled at the county level
1325 – Dr. Frank – our legislatures will not save us, it will be the moms…
1215 – Col Phil Waldron – China has information dominance, Clements – we need conservative entrepreneurs to give us information distribution.
1155 – David Clements – "We are taking the fight from the court of law to the court of public opinion…The lawyers aren't going to save us…we the people will save us"
1144 – Brazil will be speaking in support of Cyber Symposium
1134 – Col Phil Waldron – If we don't keep our country, we don't deserve it
1105 – Movie with Col Phil Waldron – outlining groups behind the white hat cyber efforts – THE AMERICAN PEOPLE ARE THE WALL STOPPING GLOBAL DOMINATION – CCP owns efforts behind Dominion – Election systems were connected to the internet – Teams have gather indisputable evidence entire system can be hacked and manipulated, and it was – Soros Behind Everything – CCP working with Soros and attempting US takeover
1055 – Fourth system seems to be working – Show should start soon
1040 – System seems to be coming online at Frankspeech.com and program will begin shortly says Lindell. THIRD SYSTEM ATTACKED AND TAKEN DOWN – LINDELL BOOTING 4TH SYSTEM
1020 – Lindell – we are under attack – entire technology attacked – another five minutes before backup system is up – Lindell 7pm today information will be released will change the world – THE SHOW WILL GO ON! TODAY WILL BE OUR VICTORY! FOX NEWS IS IN ON THE COUP.
0945 – Schedule Update Day One
1000 – opening remarks Lindell
1045 – legal team
1100 – opening remarks cyber team
1200 – panel of speakers
1300 – cyber presentation
1345 – interactive board map of 'certified' results
1415 – guest speaker
1500 – panel discussion
1545 – guest speaker
1645 – afternoon panel discussion
1730 – cyber update on analysis updates
1800 – end of day's program – Lindell remarks…(Excerpts from CD Media)
Learn More
Alabama, California, Colorado, Texas
|
July 11, 2021
Alabama, California, Colorado, Texas
|
July 11, 2021
Thirty House members, all Republicans, asked the Labor Department acting inspector general to do an "official audit" of unemployment insurance fraud during the COVID-19 pandemic.
"It is past time we learned how much of American taxpayers' dollars have actually been given to fraudulent claims," the lawmakers wrote in a letter (pdf) to Acting Inspector General Larry Turner on July 8. "We therefore urge that United States Department of Labor, Office of the Inspector General conduct an official audit to determine to what extent did fraud occur in COVID-related unemployment assistance programs."
Reps. Doug Lamborn (R-Colo.), Devin Nunes (R-Calif.), Louie Gohmert (R-Texas), Mo Brooks (R-Ala.), Lauren Boebert (R-Colo.), and 25 other House Republicans coauthored the letter.
The Republicans said that fraudulent activities are still running rampant across the country in unemployment insurance programs, citing a report from Turner's office and a media report….
(Excerpts from Epoch Times)
Learn More